New look around here.....and I love it!!!
I can not believe it is already February. I feel like i might say this every month. January was such a busy month and i don't feel like I shared any of it will ya'll! We had many birthday celebrations!
Moms birthday was first celebrated. I love this picture of her and her friend Susan.
mom and susie
Next my Grandfather celebrated his 98 birthday! CRAZY....
I am already thinking of a 100th birthday bash!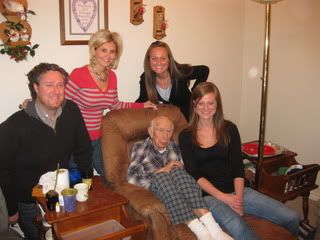 grandkids with papaw at Christmas Then my Dad celebrated his birthday. I was sadly at work and didn't even get to see him!
This is a picture my cousin took at my wedding. It is one of my VERY favorites! Can't wait to go print out my wedding pictures very soon!
We also celebrated my Mother in Law's birthday and The Sweet Man's Grandfather's birthday!
We had a wonderful "celebration" and girls night full of fun.
And of course there is always a photo shoot. Alana and I commented on how Stella always takes the best pictures, the same cute pose, and the skinny face. Alana and i tried to make our faces look thin and we tried to look perfect in every pic like Stella and you see the fun pictures we ended up with.
Love a good night out with friends.
I feel like February is going to be just as busy. This weekend we were suppose to have a shower for one of the cutest little mommy to be. But we had to move it to next weekend because of the snow. (very sad that i won't be able to make it). Then we have super bowl, Taylor's birthday weekend, Valentines day, and then weekend work. And hopefully warm weather right around the corner.
Hope everyone has a wonderful weekend! Stay warm!!!